Anyone with half a brain, including the telcos, should quickly see that mucking with net neutrality is bad for business.
The graphic posted to Reddit that shows tiered web site access a la cable channels being the most (scarily) obvious. I'll link to the graphic itself for convenience (but pardon for any broken links a few years from now):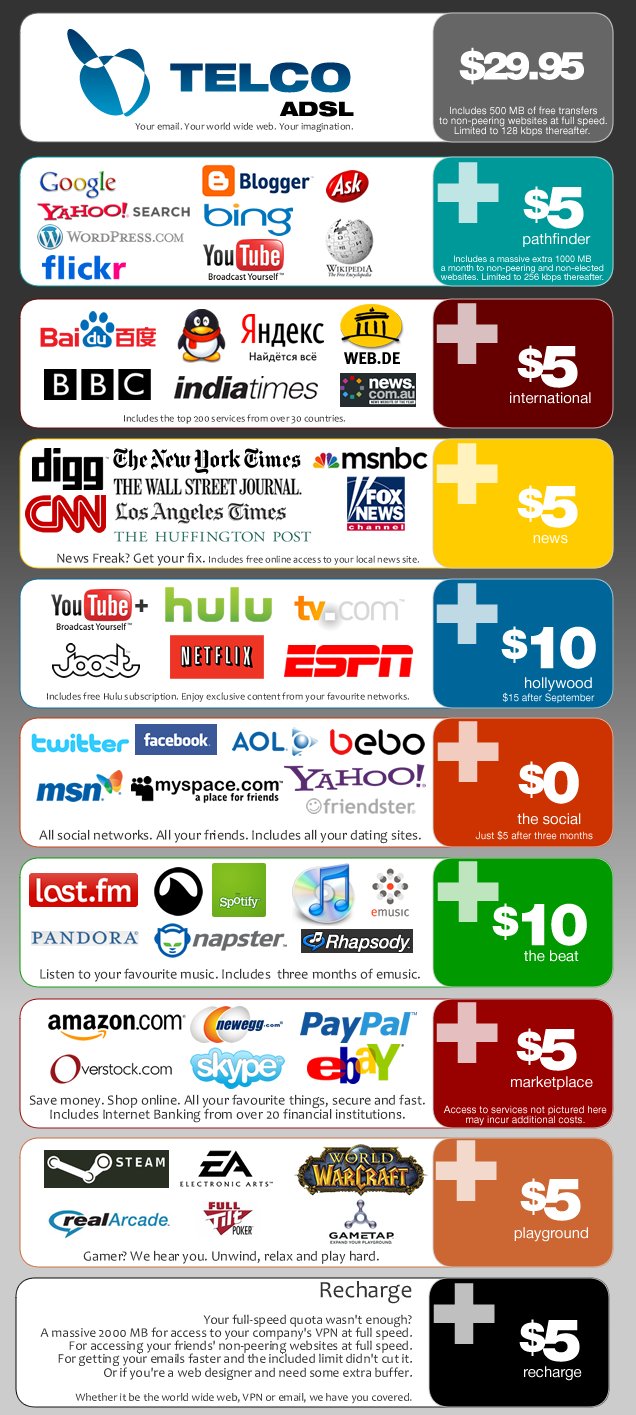 Let's noodle around with the implications of that for a minute…
First, I have to wonder if this is a result, be it direct or otherwise, of privatization. The telephone system was basically built after World War II with the Rural Electrification Act. The telephone system, even though managed by commercial organizations, was still, at its core a public utility ultimately governed under FCC Title II. Broadband—which I define here as coax, fiber optic, ISDN, Verizon FiOS, Comcast, not phones—was not implemented by any such legislation near as I can tell. While the telcos may have gotten tax breaks and aid from the state and federal levels to help lay down cable, I don't remember there being any legislation pushing out broadband to every part of the country for the Common Good. So, their network, their rules. Everyone needs to be taking notes on this if they aren't already. But, at what point does a resource need to be so ubiquitous that it ought to fall under Title II? Take away the Internet wholesale out of the economy and what would happen next? Would the impact on the economy be dramatic enough to establish net neutrality in legislation even outside of Title II? I think these are fair questions.
Second, I can't imagine that any company doing business on the web, in whole or in part, would be pleased in any way with the telcos holding court over what gets through simply because a customer can or cannot (or unwilling to) pay an extra amount on the bill. Even those websites that offer free services through advertising can't be happy with this if all of a sudden there was even a sudden 10—nay, 5%—drop in ad revenue simply because their site is successful enough to be in a top tier. The forces of Google, Microsoft, Apple, Facebook, and Amazon combined would be too epic against Verizon, Comcast, Time Warner, Cox, and others of their ilk to even affordable to fight, not to mention every Chamber of Commerce in existence.
Third, I don't see anything like the tiered pricing being manageable in any way. The domain space is massively huge; 112 million in .com alone. To throttle a list of even 1% of that is 1.12 million domains. There is not a workforce on this planet that can take on that task. The Reddit graphic lists less than 60. Granted, they are all heavy hitters, but then would the telcos then hire a sales staff to partner websites? How would such a deal be pitched to websites that is even remotely appealing? This has the same funky smell of those deals the NFL makes with cities where the city has to buy up any unsold tickets in the stadium the city built (and not even to avoid a broadcast blackout of the home game). Who would agree to such nonsense?
I can't believe we're even having this conversation, but I suppose we need to have it to reason out what is right and what is just pragmatically stupid. There are already some interesting responses that have come to light, notably those noted below, which are reporting tools of distributed/streamed video quality by ISP:
These are a great way to call attention to the issue of net neutrality in a way that has direct impact to the user. And away we go…
UPDATE: Just to be clear, none of this means that I think we shouldn't bother fighting for net neutrality. I feel quite the contrary, actually, and that we should fight for it just so we don't have the experience anything like tiered web access other than speed. The hit to the economy is just unreasonable. What I am trying to express here is that I don't necessarily agree with the doomsayers that the Internet's utility will be diminished to almost nothing. The telcos are already throttling certain traffic as the above noted websites imply, and the recent ruling does compel the telcos to reveal what kind of traffic throttling they will be utilizing. Net neutrality is important to everyone, but we are nowhere near "all is lost."